As the UK, and indeed the world, faces unprecedented challenges due to COVID-19 and its impact, Keys Group has remained at the forefront of supporting vulnerable children and young people in our schools, residential children's homes and leaving care services.
Our young people's services have remained open throughout the pandemic, as a consequence of the unrelenting commitment of our staff. We are all proud of the achievements of the young people during these difficult and unusual times who have more than played their part as responsible citizens in their local communities.
Our core values of Excellence, Passion, Integrity and Caring (EPIC) continue to be demonstrated on a daily basis by both our young people and staff. The positivity with which the whole Keys organisation has risen to the challenge is demonstrated in the myriad of innovative, fun and at times ingenious ideas for continuing to live happily and healthily through these times.
As a result of all the hard work from everyone over the last few years Keys Group is in robust operating and financial health and had planned early for the inevitable disruption that the pandemic has brought. We value our relationships with our business partners and their contribution to our endeavours to support children and young people and, these relationships are more important now more than ever. As part of our ongoing commitment to our business suppliers we have contacted them to let them know we are here to help and support them in any way we can. We continue to commit to working together, to do all we can to support one another and to sustain the delivery of great care and support.
David Manson, CEO comments:
"Keys Group's achievements, resilience and caring through the turbulent times of this pandemic act as a constant reminder of how individuals working together achieve success. Every young person, team member or partner organisation can rightly be proud of their contribution, no matter how small, to our society's fight against Covid-19. Where there is team work and collaboration, there is undoubtedly the strength to continue to support our young people to live happy, healthy and successful lives through even this most difficult of time."
By sharing photos, pictures, poems and good news stories with everyone across the business including weekly video messages from our management team, we have seen first-hand how resilient, kind, caring and motivated our staff and young people have been throughout this crisis and feel extremely proud. Here are just a few examples:
Cherry House
Young people at Cherry House helped the adults choose the tree and spent a lovely afternoon decorating it with individual handmade decorations. The tree also features handmade decorations from former young people who have now moved on.
New Ways School
Young people and staff at New Ways School in Birmingham have actively participated in Anti-bullying week by wearing odd socks to show solidarity in combating bullying and they have also had discussions and activities during tutorial times about bullying. Great job everyone!
Willow Bridge
Willow Bridge's coffee morning for Macmillan saw them play bingo, pin the teacup on the saucer and other fun activities. They raised a great total of £100, which was their target. Thanks to everyone who donated!
Halton School
This safeguarding display at Halton School is fantastic – it really catches the eye and is very colourful! Great job!
Park House School
Park House School have been celebrating and educating about Bonfire night.
The students have decorated chocolate apples, made bonfire cup cakes, become human fireworks in a colour run, edited digital photographs to show what a Park House firework display may look like, learnt about Guy Fawkes and painted his portrait, created a display about wildlife safety during Autumn designed and created an Autumn wreath and made woodland art using natural materials from an off-site walk – …it has been a very busy week!
Build-a-Future
The young people wanted to mark Remembrance Day and created these wonderful pieces for the front of the school. They have done a wonderful job – well done.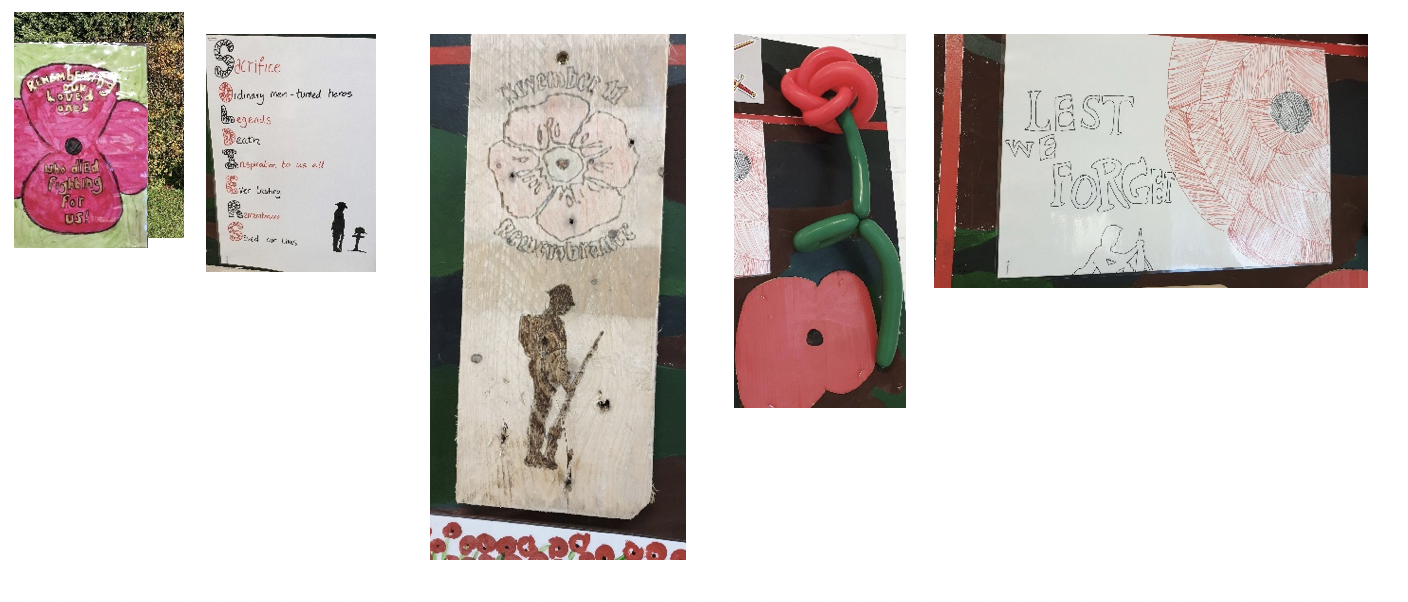 Annjan
The young people at Annjan have set up a staff car wash to raise funds for the NHS. They have also been creating really colourful posters for the front of the house to thank NHS and key workers. We think they look fantastic.
Holly Lodge
These fantastic headbands have been created by the young people and staff at Holly Lodge. They are for use by nurses and designed for the buttons to be used for face masks to be attached to. This can help prevent the nurses getting painful ears from wearing the face masks on a continual basis.
They will be donated to the nursing team at the local children's hospice. This is a fantastic gesture, a huge well done to everybody.
Min Y Grug
This fantastic artwork was completed by the staff and young people for the Clap for our Carers event which happens every Thursday evening.
Diolch yn fawr iawn means "thank you very much" in Welsh and is a fantastic way to show support for everyone working so hard in keyworker roles.
Parkview
There was great teamwork on show at Parkview when the young people and staff got together to spruce up the garden. The end result has seen the garden transformed into a lovely bright space for the children, a place where the chickens can roam free and there's even a new home for the resident rabbit! A great job everyone.
Fairholme
One of the young people recently attended a medical appointment and gave the nurses a hand written note, thanking them for all their hard work and dedication.